The science behind a calming interior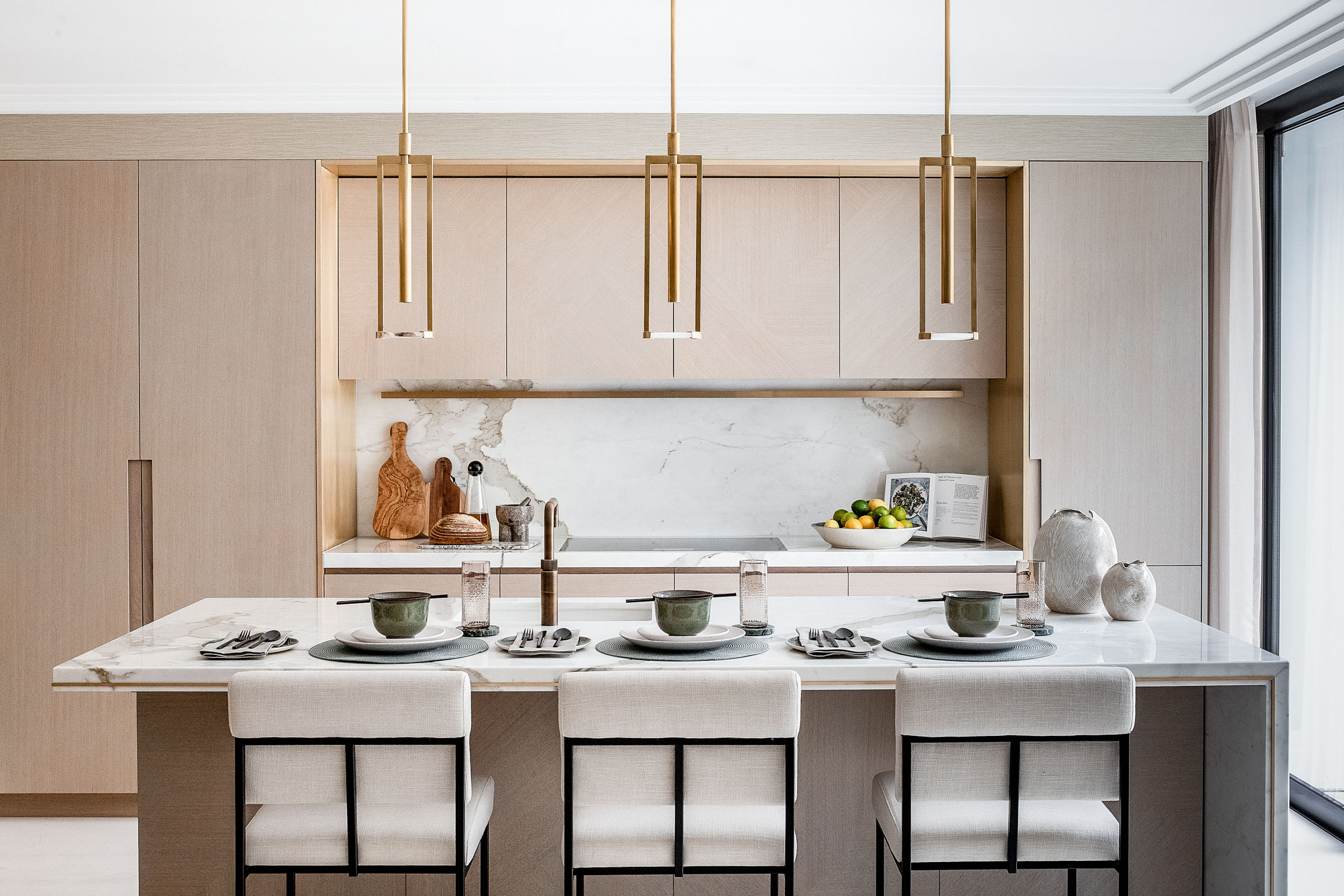 From lighting frequencies, to smooth surfaces, to tricking the brain with scents and smells, Alexandra Goss explores the tricks that designers use to create homes that are oases of calm
Most of us will spend up to 90 per cent of our lives indoors. And with increased home working, the line between our professional and personal environments becomes even more blurred.
"Ensuring our interiors are equipped to support us as we navigate our everyday lives is paramount to our physical and mental wellbeing," says Rosa Isaacs, design and material strategist at the sustainable architecture and design practice Oliver Heath Design. "We are where we live as much as we are what we eat."
Countless scientific studies highlight the pivotal role interior design plays in the healthcare industry, while the business world also pays attention to the psychological effects of workspaces – office designers use colour, lighting, layouts and artwork to create motivating, uplifting spaces that will promote efficiency and creativity in employees.
The WELL Building Standard, for example, is an international system that measures, monitors and certifies a series of features like air, light and comfort to promote occupant wellbeing. In fact, WELL-certified buildings have been shown to drive a nearly 30 per cent increase in occupant satisfaction, 26 per cent increase in wellbeing, and 10 per cent increase in mental health. Increasingly, designers and architects are seeking to deliver these same benefits in private houses too.
"It is so important that the interiors of our homes are calm. These spaces act as our haven away from the hustle and bustle of the outside world," says Alyssa Bobiles, senior interior designer at Accouter interior design and interior architecture studio. While some specifics of what is calming in a home can be subjective, there are often key elements that come together to create a soothing effect.
The first is the layout of the space itself. "Take time to consider the function and flow," advises Emma Sims-Hilditch, founder of the design firm Sims Hilditch.
If there are large open-plan spaces, designers often divide them up with furniture and plants to create zones for seating, entertaining, working and relaxing. They ensure, too, that all items have a place. "If everything can be tidy and organised, it will automatically make you feel calmer and in control," Sims-Hilditch says.
Amanda Ransom Design transformed the shoot room in a country estate into a welcoming, nature-inspired drawing room using an autumnal colour palette, antique bird engravings and the calming Arcadian scene evoked in a 17th-century Aubusson tapestry. Photography by Justin Barton
The second crucial ingredient for creating calm is the décor. Increasing numbers of designers are adopting the principles of biophilia, which focuses on humans' innate attraction to nature and was popularised in the 1980s by the American biologist Edward O. Wilson, who observed how increasing urbanisation was leading to a detrimental disconnection with the natural world.
In 2019, a 10-year study from Exeter University concluded that living or working in rooms filled with greenery can increase an individual's happiness by up to 15 per cent, while spending time in timber-built or lined rooms has been shown to gently slow a person's heartbeat.
At its most basic, biophilia is about bringing the outdoors inside, says the interior designer Juliette Byrne. "Incorporating natural materials and plants into your home makes it feel calm, purifies the air and creates a more positive mood," she explains.
Curved, natural shapes in furniture feel soothing, in contrast to having too many rectilinear forms, which scientists have found can make us feel stressed because right angles are more stimulating to the brain than round shapes or ovals. Muted, earthy neutrals and shades that echo the natural world are also key.
"Introduce a refined palette of colours such as muted blue-greys, soft pinks, warm clay tones and earthy olive greens," says Bobiles. "You can complement and elevate the scheme with layers of texture and pattern through elements like scatter cushions, curtains and decorative trims."


Muted colours and curved lines create a calming effect at No.1 Belgravia, a five-storey townhouse in central London refurbished, designed and styled by Accouter. Photography by Taran Wilkhu
Lighting is all-important – as well as ensuring a home has plenty of natural light to normalise circadian rhythms, architects and designers such as Chris Pask, director at Charlton Brown, stress the avoidance of harsh white lighting, advocating instead a mix of wall lights, pendants and standing lights. "This will create a more refined, calmer environment," he explains.
Pay attention to lightbulbs – the lower the Kelvin temperature, the "warmer" or redder the light; the higher the temperature, the "cooler" or more white and blue the light. For a cosy, restful vibe, opt for a warm range of 2,700-3,000K.
Serenity in the home is about invoking all the senses – as the Finnish architect Juhani Pallasmaa explains in his classic book on architectural theory, The Eyes of the Skin: "Every touching experience of architecture is multi-sensory."
As such, a home should feel restful, with a focus on tactile, natural materials including wood, stone, silk, linen and cotton. "Natural materials such as timber have been found to have a positive physiological impact, so incorporating accents of wood within your interior is a great way of addressing both aesthetics and wellbeing," Isaacs says.
Make relaxation a priority, with comfortable beds, squashy sofas, snuggly chairs and generously-plumped cushions. "Comfort is calming and generosity is a good way to articulate how to create a calm interior," says the architectural and interior designer Amanda Ransom, who specialises in period and historic buildings. "Have somewhere to put your feet up if you want to, a table by your side. If a room feels challenging to use, it won't feel calm."
Scent is particularly important for evoking calm due to the anatomy of the brain: smells are handled by the olfactory bulb, the structure in the front of the brain that sends information to the other areas of the body. Odours take a direct route to the limbic system, including the amygdala and the hippocampus, the regions related to emotion and memory.
Candles, essential oil diffusers and flowers all play there part here, but so too can furniture. "Think about scents that resonate with you and make you feel calm and protected," Ransom says. "You may love the smell of leather, so that could mean having a well-polished leather-topped desk, while you can't beat a beautiful vase of flowers for colour, texture and scent. Or you may like wood smoke – ultimately, it comes down to whatever is evocative and relaxing for you."
Knight Frank Interior Services
Knight Frank Interior Services curate world-class interiors and design-led turnkey furnishing solutions. By collaborating with industry experts and artisans, we transform flashes of inspiration into unique environments to promote a property to its full potential.