The devil's in the data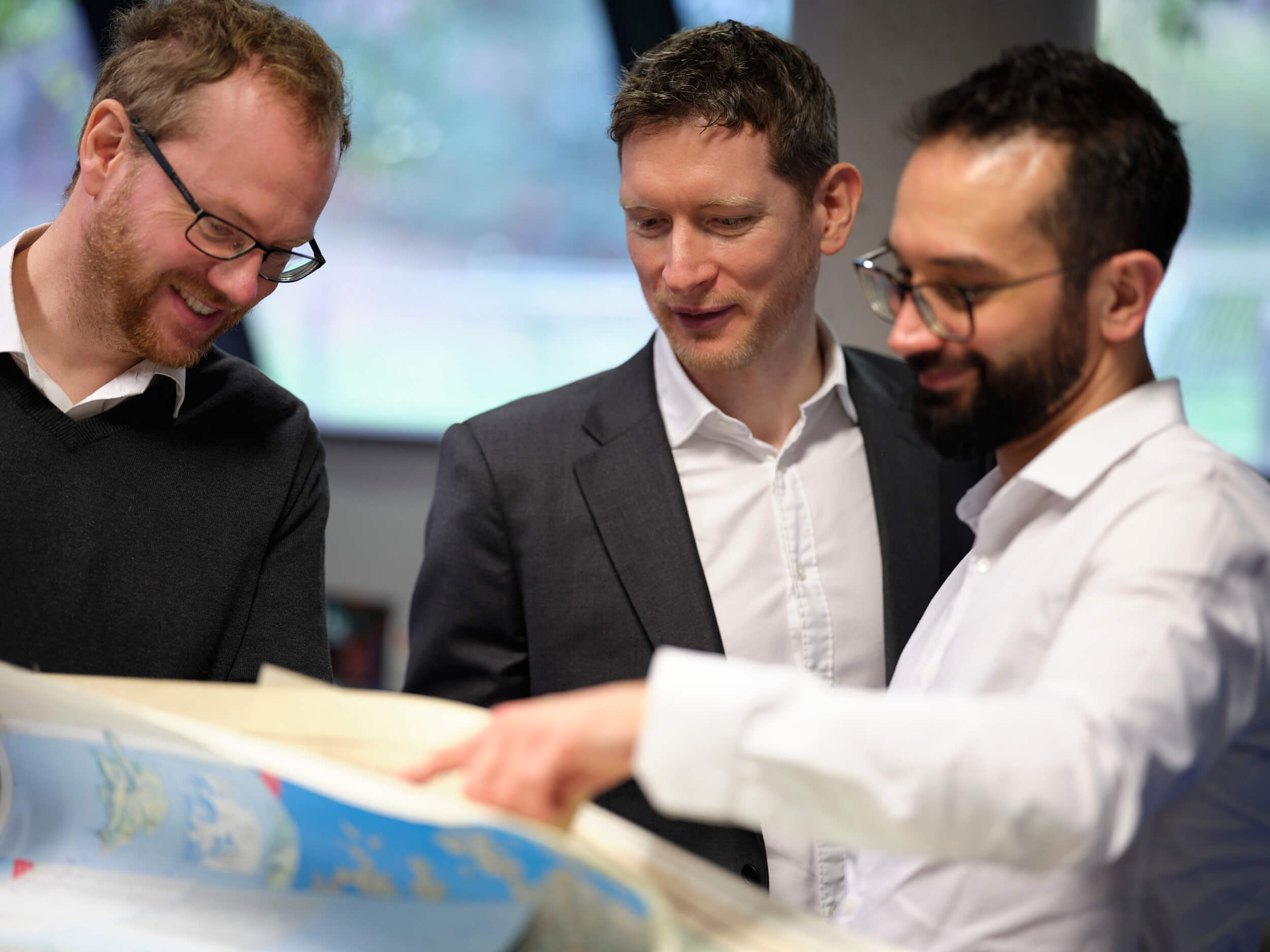 From relocating the HQs of global companies to transforming London's ambulance service, Knight Frank's Analytics team gives clients the tools to solve property's most complex problems
Can I move my office without losing staff? Do we build a new hospital in Manchester or Liverpool? Can you make my farm more efficient? These are just some of the questions that Knight Frank's 23 strong Analytics Team are presented with each week.
"Put simply, we give our clients the tools to make better decisions," says Head of Analytics, Ian McGuinness. When Ian joined Knight Frank in 2014 following a five-year stint in public planning policy for Newham Council – where he worked on the Olympic Park, the Royal Docks Enterprise Zone and Canning Town's regeneration masterplan – he was the firm's sole geospatial researcher. Skip forward to the present, and his multi award-winning team specialise in deploying data to solve some of the most mind-bending problems in the property world. Come to Ian with a burning question and his team will help you to answer it.
"We've been asked everything from where to place designer graffiti to 'can you find my lost land?'" Ian says with a smile. "No matter the question at hand, we have to consider every dynamic that might bear on someone's investment decision in the property market, whether that's an individual customer or an institutional investor." Take, for example, an office move. The Analytics Team have helped countless businesses (including a number of household names) to move their national or global headquarters, which often means considering the lives of many thousands of employees.
We can see an organisation's staff footprint and how far it can pull talent from," Ian explains. "Then we can use data analysis to build up a picture of the staff's lifestyle characteristics, preferences, educational attainment and so on." With this information at hand, Ian's team can assess different sites and conclude: "If you have a 50 kilometre reach for 80 per cent of your workforce, this is what the talent pool looks like in the new location." The employer can then make a call about where to move with confidence – and minimal disruption.
Not that Ian's team only helps commercial clients to make real estate decisions. Much of the Analytics Team's work supports civic organisations including the British military and government on a national level. During the pandemic, Ian and his team supported Operation Rescript, the military effort to identify and requisition large public locations for medical storage, key worker accommodation and field hospitals.
"All the army's geospatial data relates to operational theatres overseas. Suddenly, the army had to solve a logistical problem in the UK and didn't have the data," says Ian. "We have all the domestic databases they needed because we use them routinely for property analysis, so we made contact with 42 Engineer Regiment and plugged all our data into the military using a secure web server."
In 2016, Knight Frank's analysts transformed another public service too. You may not have heard about it, but if you live in greater London, their work has almost certainly affected your life or a friend's.
Before and after: London Ambulance Service's old operating model and the new model created by Knight Frank's Data Analytics team
Ian explains: "We carved up the 999 ambulance incident data using techniques borrowed from the electoral authorities to create an equalised coverage model. We then adapted the data to explore how the London Ambulance Service could clear out inefficient and expensive facilities and replace them with major hubs. We helped them to start introducing better fleet management systems, personnel systems, showers, changing rooms and so on."
He makes it sound simple, but to undertake a project like this requires a huge amount of work and a nuanced understanding of all the factors that influence 999 calls and response times. "London has wildly different patterns linked to social disadvantage and underlying health inequality," Ian continues. "By analysing and mapping the data we were able to get the ambulance service thinking, 'Okay, we need new facilities here,' or 'we don't need this here, let's save ourselves £10m'. Aside from the London Ambulance Service, we've gone on to work on similar analyses for the Met Police and London Fire Brigade."
Mapping the London Ambulance Service's operational requirements to land search data
How could Ian's team go about solving a problem for you, then? "The very first thing we need to know is exactly what is it you're trying to achieve. The client relationship needs to be really strong and open. We rely on a closeness and a level of trust that is absolutely essential to solving the kind of problems we're presented with."
Whether you'd like to weigh up the value-add of building a tennis court on your property, or assess which side of Regent Street would be best for a new flagship store, all the "weird and wonderful" requests Ian's team receive have something in common. "Our clients come to us because they think they have a property problem, but it's our job to consider human demographics, behaviour and choices," he says. "Property is the start point for us. Really, we're all about people."
If you have a question for Ian's team, please contact analytics@knightfrank.com